It is important not only to report on new projects, investments, and news, but also to see how some ICOs are successful, meeting their stated goals and thus showing the confidence of their investors in a relevant project. The RxSmartCoffee token (RXSC) token based on Waves that represents the assets of the company Rx Smart Coffee Inc. has raised more than $ 50,000 at the end of his ICO on November 6th.
Rx Smart Coffee extends sincere gratitude to all participants, investors, family, and friends who have entrusted their hard-earned money with RXSC. As mentioned earlier in another article, the objective of this ICO was to promote international awareness about our coffee blends.
The money raised during the ICO will help us move the business plan forward as projected and not qualify us as a failed project.

Honson luma, 2017
Most of RXSC development was funded with our own resources with solid deliverables achieved prior to ICO.
The Peer 2 Peer E-Commerce Platform:
Rx Smart Coffee markets will sell private label naturopathic coffee to individual consumers via the platform. The store uses a peer 2 peer model. Each store is replicated to each distributor/reseller/associate on our system. The platform automatically calculates and tracks commissions using the Forced Matrix pay plan– paying the distributors a direct sales commission and sharing a precise percentage with their uplines at specific levels.
Also integrated with our platform is an e-learning center for first time users of online peer 2 peer marketing and cryptocurrency enthusiasts. The e-learning center will cover topics such as how to sell online using the platform, how to trade cryptocurrencies, (such as DIBCOIN), how to make money on specific niches, learning to drop ship and much more. The e-learning center will be video-ready and specific memberships will allow access specific centers.
Product Offering:
Heart Smart– specific herbs that aid in chelating and cleaning the blood vessels and veins, as well as aiding in heart muscle support.
Gentlemen's Blend– aids in body support of men to improve and support a healthier Erectile Structure and Function to enhance the body functions of improved Prostate function, with enhanced Libido, Blood Flow, and Stamina.
Fresh Breeze– aids in body support of females in the area of reducing Hormonal Imbalances, Heat Flashes, Pre-Menstrual Cramping and other symptoms associated with changes in hormonal levels. This blend is formulated to be a women's BFF (Best Friend Forever).
Thin Blend- aids in body support for males and females in the area of increased Metabolism, Weight Stabilization, and increase in the overall Caloric Efficiency of the Digestive System, which along with good diet and exercise helps shed unwanted pounds.
Brazilian Soul- rich, flavorful 100% organic Arabica coffee with no added ingredients for those who appreciate coffee that is bold in body yet smooth in taste. Sourced from some of the highest elevations from around the world, this coffee is certain to satisfy the most discriminating palate.
Beautiful Mind– specific herbs that aid in body support of males and females in the area of improved Mental Clarity, improved Circulation to the Brain and Nervous System to enhance the body functions of Positive Focus and Mental Agility.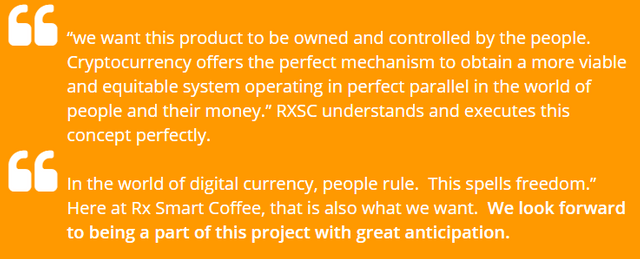 Site of the company: https://rxsmartcoffee.co
More information: https://rxexchange.us/
Facebook: https://www.facebook.com/ShopRxSmartCoffee/
Twitter: https://twitter.com/RxSmartCoffee
Instagram: https://www.instagram.com/theofficialrxsmartcoffee/?hl=en
LinkedIn: https://www.linkedin.com/company/11213510/
Telegram: https://t.me/rxsmartcoffee
GitHub: https://github.com/rxsmartcoffee
Video:
News Source: https://bitcoiner.today/en/ico-passed-rx-smart-coffee-coffee-gets-50k/